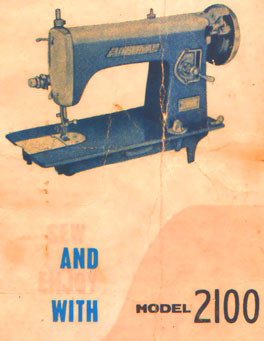 Here is the machine that started our small collection, the Mercury 2100. We found it at a local resale shop; after I'd looked at it once, I went back and placed it on a table. Surprisingly, my wife told me it'd have to go home with us, and our newest collection was born. And it's all the more fun as it's a joint venture!
I used my normal research tools to find out what I could about this machine. It seems that the name MERCURY was trademarked by Morse Distributing Corp. of New York in the late 1940's for use on sewing machines, and expired by the early 1970's. (Modern industrial Mercury machines are under a different and unrelated trademark.) This Mercury 2100 was made in India, although by whom we don't yet know. A tiny code on the instruction manual reads 7-64-5,000. This is a printing code, probably indicating July 1964, and a printing run of 5000 copies.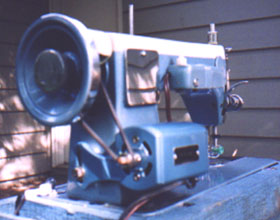 Mercury 2100, rear or motor side.
My wife and I have already decided that all-black machines don't do much for us. The two-tone late 50's/early 60's motif is much more to our liking, and this machine with its blue and white smooth enamel paint is just the thing we're looking for. It seems that all machines of any kind designed for home use (sewing machines, typewriters, mixers, etc.) have an interesting combination of functionality and eye appeal, each design having a little more of one and less of the other.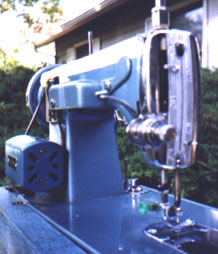 business end of Mercury 2100